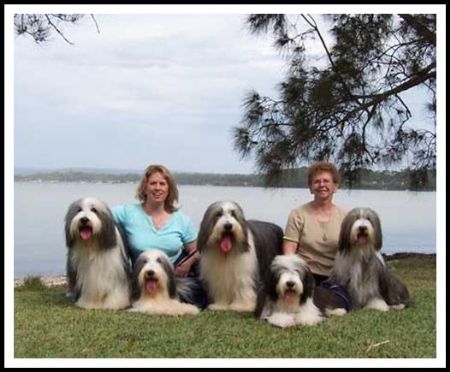 'Tim' and Karin Finlayson...
The mother and daughter team with over thirty five experience
showing and breeding Bearded Collies in Australia.
Breeders of Best In Show winning Bearded Collie champions and herding High In Trial winners.
Bonibraes is combining the best of Australian bloodlines with those of our imported beardies – coming from prominent kennels in Canada, Belgium ,Sweden,Finland and New Zealand and bearing world famous bloodlines.
All Bonibraes breeding stock have been health checked and are of sound temperament, and as we take our responsibility to the future of breed very seriously, we insist that they must possess some outstanding attribute to contribute to future generations before they are included in our breeding program. In addition we insist that any proposed breeding will not increase the degree of inbreeding of the resulting progeny.
All beardie boys at Bonibraes are available at stud, subject to the proposed mating meeting our own breeding criteria. We hope our boys will be used by other breeders and ultimately will prove to have made a real contribution to the breed in Australia, not just to our own kennel.
Show/breeding quality puppies are sometimes available in partnership or leased out on breeders terms.
67284 Visitors