About Bonibraes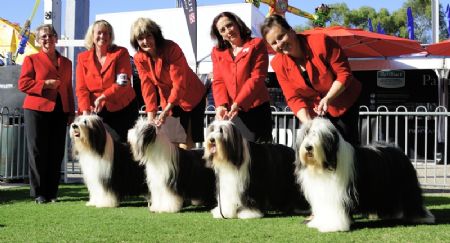 Bonibraes Bearded Collies is a prominent Australian kennel situated near Sydney, New South Wales, Australia.
Bonibraes is a mother/daughter partnership, the product of a thirty year plus love affair with the Bearded Collie. During that time we have been heavily involved in the Bearded Collie Club of NSW as well as local breed clubs, agility clubs and several obedience groups.From 2005 we have been extensively involved in establishing ANKC Herding in NSW, running training and trials, and ttitling many of our dogs at trials. We are both ANKC Herding judges.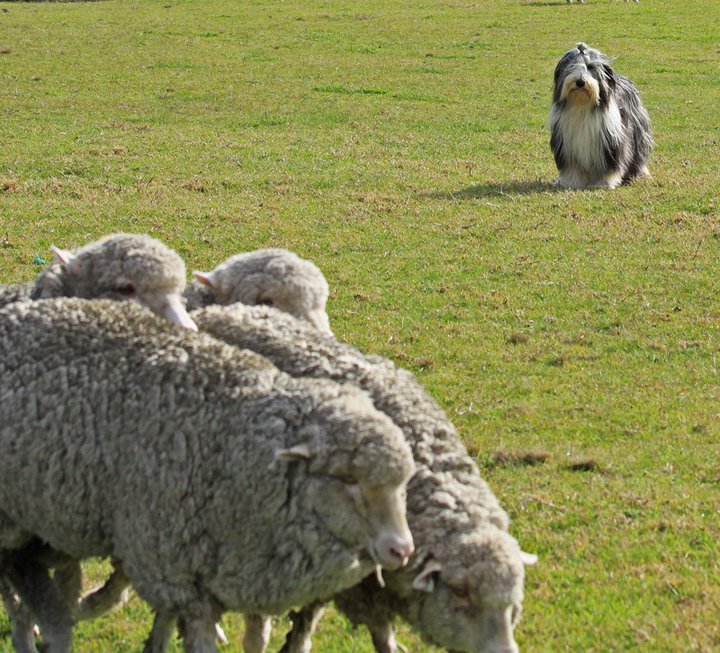 We quickly realized how isolated we are in Australia and the effect that isolation combined with the fads of the show ring can have on distorting breed type.
We travelled first interstate in Australia, seeing as many dogs as we could, and then later on to America for many National specialty shows,as well as Crufts in England , and Finland and Amsterdam for the World Dog Show . This has allowed us to talk to a wide range of breeders, develop international relationships and have hands on experience on a large amount of dogs. We believe that this wider perspective helps us keep an informed and balanced view on what is correct breed type. The herding ability of our dogs has become of increasing importance to us in our breeding program, conformation as well as temperament and trainability of dogs is critically tested when they herd. Sadly the exaggerations of the show ring mean that many of these breed features are being lost.
Our very successful breeding program has been a carefully selected combination of the best of Australian and the overseas bloodlines, to preserve tradition, function, soundness as well as genetic diversity.
You can also find more information on our Facebook page
https://www.facebook.com/Bonibraesbeardedcollies/
OUR HISTORY
It seems a long time ago now that with much excitement we bought home our very first beardie Cucairdeil Copper Dutch, who proved to be an instant success with Karin, then 13, Melanie 11 and Scott all of 9 years old. Six months later we were hooked and " Chockles" Ch Cucairdeil Chockdrop arrived to be our very first show dog. Things just seem to flow on from there, Karin proved to be an outstanding handler, and mum, well she tagged along and did the best she could to try to keep up.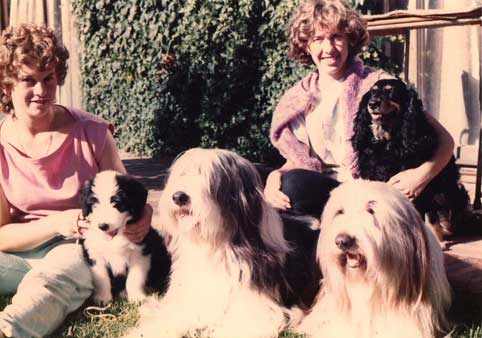 Success for Bonibraes really started when we purchased a lovely slate dog, "Duncan", Ch Colard Captivation, and an outstanding brown bitch, "Kara", Ch Burnhardt Copper Flame, from the top two kennels in Melbourne. Both were very heavily based on Potterdale Lyric John. bloodlines. Not only did this pair have considerable success themselves, but when mated produced a very special litter, out of which we kept "Einstein", Ch Bonibraes Bedevilled and "Brooke", Ch Bonibraes Bedazzled. We had arrived in the show ring! When we added to this our lovely "Charm", Ch Burnhardt Charm N Devil, we were really on the way up.
June 1997 saw the arrival of our first Canadian import Can Am Aust Ch "Classical Clap for the Wolfman". "Jackson", was purchased for his outstanding bloodlines. A well-boned dark slate dog, with a super head and a bouncy bubbly temperament, "Jackson" has that star quality needed for success in the show ring. A Canadian and American Champion, he has cruised through his Australian title with a Best in Show on the way.
1998 saw the arrival in the show ring of our first progeny from "Jackson". Right from the start his children made their mark on the Aussie show scene. None has yet matched the success enjoyed by our Digby, Grand Champion Bonibraes Wolfmans Image. "Digby", a "Charm" son, is the most successful Bearded Collie we have ever bred winning multiple Best in Shows, and a Best in Group at the prestigious Sydney Royal on his way to being the first Grand Champion at Bonibraes. While our Jackson children continue their success in the show ring, they are being rapidly challenged by the next generation, the "Carter" kids at Bonibraes.
March 2000 saw the arrival of another Classical boy, Can Ch. Classical Written in the Stars, 'Carter' a "Potterdale Double Image" son to join the family. A bubbly bouncing slate boy, with a classic outline and beautiful head. "Carter" has taken great pleasure in siring several beautiful litters at Bonibraes. His children too have arrived in the show ring with great success. His first litter produced "Sarah-Jane" Ch Bonibraes Charm N Star and "Josh", Ch Bonibraes Bound ToBa Star, both outstanding on the stack and on the move. His little dynamo daughter "Dazzle" makes the normal beardie bounce seem tame. "Dazzle" also known as Bonibraes Dazzlin Star achieved a Best in Show at the tender age of six months and five days! Dazzle is very special to us at Bonibraes, as she combines all our original lines with those of both our Canadian imports. There are six or seven of Carter's kids currently being shown in several Australian states, all very successfully.
New arrival from overseas to Bonibraes in 2003 was "Roxie", Firstprizebears Chicago, a glamorous fawn bitch sired by top winning stud dog in the Uk Ch Gillaber Drummond. 2004 saw the arrival of 'Ralph' , Alistair's Dashing Design a lovely dark brown dog from Sweden, and 'Chad' , Ramsgrove Revolution a stunning black dog from the UK . These lovely beardies, carrying once again the best of British and European bloodlines are proving to be exciting additions to the Aussie show scene, as well as making a huge contribution to our breeding program.
Mid 2005 saw the arrival of a very special girl, "Elle", Avongael Elegance, to Bonibraes. Sired by Eng Ch Snowmead Sans Faute via frozen semen and out of a "Carter" daughter Avongael Clasique Etoille.
In 2012 we saw the need to add to the gene pool again and imported 'Tiplu', Memorylane Rubberband Man, a handsome brown boy from Finland. Tiplu carrise the genes of many handsome dogs we have long admired.
Early in 2013 saw the arrival of two puppies from New Zealand, Llandonna Timeless Classic at Bonibraes and Llandonna Classic Memory at Bonibraes. These babies sired by frozen semen from our Jackson, "Can/Am/Aust Ch Classiacl Clap For the Wolfaman' , and had a pedigree that really excited us. We couldn't resist!
Bonibraes is committed to breeding healthy, happy functional beardies. All our current breeding stock is being health screened as a preventative measure. We place great importance on correct temperament. We are concerned about the level of inbreeding in Beardies in Australia and the implication it has for the overall health of the breed. When you combine this with our insistence on correct breed type you can understand why we have become one of the most successful Australian kennels.
Looking back at our time in the breed so far we would hope that our breeding and involvement has and will continue to make a positive and lasting contribution to the breed in Australia. We are passionate about beardies, they have given us much joy, as have the long lasting relationships we have built around them with others while participating in activities related to promoting and preserving our beloved breed. Though many people have influenced the breeders we are today, two many to name, we have to acknowledge and thank our mentors in the breed- firstly Chris and Garry Caird,( CuCairdeil) who introduced us to the breed,and later Richard and Colleen Stoate (Colard) . Through their shared passion for the breed, both these couples selflessly gave their time to help and guide us, and harder still, had the wisdom to let us go on our own way.